Bluecoats have gone 'bananas'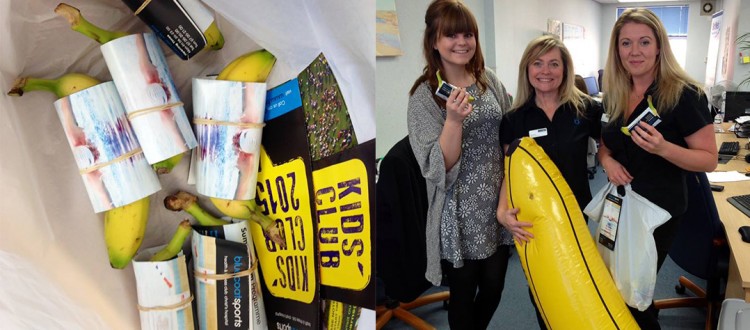 Monday mornings are either welcomed if you have an exciting week ahead, or they're a drag. There's always something about starting a working week that seems mentally draining, but not for Melanie and Sarah from Bluecoats! If you've ever seen two ladies running around with giant blow-up bananas on a Monday morning in Horsham, that's them. They hand out a large number of bananas to companies completely free of charge. The bananas come packaged with a brochure to give you some options on how to up your fitness game!
If you haven't heard of Bluecoats already, their goal is to promote a fit and healthy lifestyle. Each banana has a Bluecoats schedule wrapped round it so that you know when to pop along and touch up on your fitness. You may be thinking, well, they are just bananas, right? Well if that's you, bananas are probably a lot more beneficial than you think. Take a look here.
Alongside the many bananas that get handed out, once a month they also choose an employee amongst all the companies they visit to win a month's worth of membership at their fitness centre. That's free access to their swimming pool, gym, sports facilities and exercise classes!
To all bosses out there, if you want to get the most out of your employees on a Monday morning, get Melanie and Sarah to come visit you and fuel them with potassium-enriched productivity.
Fancy a visit from the banana ladies at your place of work? Just go ahead and sign up!