Upcoming weekend highlights in Horsham
We are lucky to live in a town with so much going on to entertain us. This weekend is even more special thanks to the greatly anticipated Bank Holiday! If you're unsure what is going on in Horsham, here are this weekend's highlights.
The Circus Is Coming To Town!
A major summer highlight for many is the circus in Horsham Park. Organised by Circus World Entertainments, this is a family-run circus featuring clowns, acrobats, magic, puppets and more. This is said to be their most exciting show to date; a mix of colour, laughter and excitement to enchant audiences of all ages.
The show will run weekdays at 3:00pm and again at 7:00pm; Saturday and Sunday 2:00pm and again at 5:00pm; and a showing on Bank Holiday Monday at 2:00pm. Adult tickets are  £12 or £10 for children. The box office is open on site daily 9:00am – 8:00pm. Alternatively you can buy your tickets online at www.ticketline.co.uk/venue/horsham#contact or call the ticket office on 07531612240. Find out more at www.horsham.gov.uk/events/festivals-and-outdoor-events.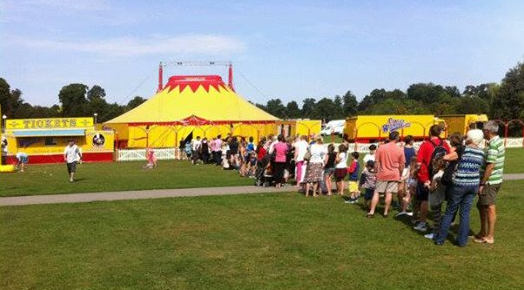 Movie Night Under The Stars
Are you a Patrick Swayze fan? If so, head down to Sumners Pond movie night on Saturday to see him get his groove on. Bring along a camping chair or a blanket and get comfy at their outdoor grass amphitheatre for a movie night under the stars. Popcorn, sweets, soft drinks & a bar will also be available.
If you'd like to book a meal at The Cafe by the Lake beforehand, call 01403 732734. Tickets will be sold on site on the day from 9am. Tickets are only £5 so you'd be crazy not to attend! For further information on this event and more visit www.cafebythelake.co.uk/html/events.html.