Free drink for social members at The Holbrook Club this July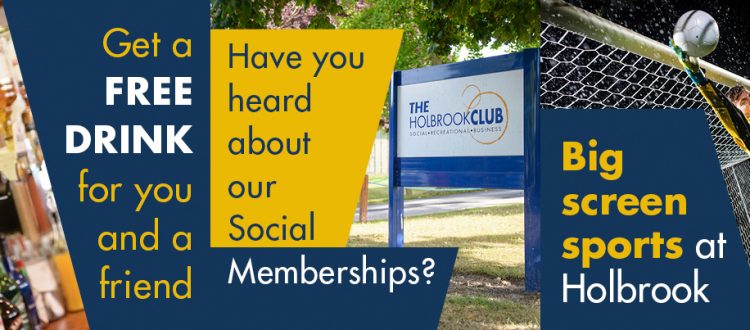 We've got a great offer to share with our Horsham Blog readers this month. The Holbrook Club is giving away free drinks for you and a friend when you open a new social membership with the club. This offer is running up until the end of the month, so join quickly!
All you have to do is fill out this form and a member of the team will contact you.
What a social membership includes:
Access to the club's bar and kitchen
Up to 30% off drinks and 10% off food (when paying with members privilege cards)
Access to all Big Screen Sports
Discount on tickets to club live events
Access to racket sports, snooker and 3G 5-a-side on a pay and play basis
Coming soon to The Holbrook Club
The Holbrook Club offer up a wide range of events to the local community on a regular basis; from band nights to discos and sporting events!
Whizzfit – 17th July
Offering up plenty of dodgeball and nerfgun fun for the kids, sign your children up for an afternoon of activities at the club on the 17th of July. With inflatable barricades and unlimited ammo, there's no doubt they'll have a whale of a time. Book spaces here.
Schools Out! Summer Funday – 24th July
To celebrate school breaking up for the summer, The Holbrook Club are putting on a great afternoon to kick the holidays off with a bang. Open to members and guests for free, bring your friends along for a fabulous time – hopefully in some sunny weather!
The afternoon includes:
BBQ
Bouncy castle
Children's rides
Inflatable slide
Live music
Family Disco Night – 29th July
The Holbrook Club's famous family Disco Night is back! On Friday 19th of July, head to the club from 5pm when the doors open for a night full of music, drinks and food. A great place for friends and families alike to gather and have a catch-up. Members and their children go free to this one, whilst non members over 14 years must pay £3.