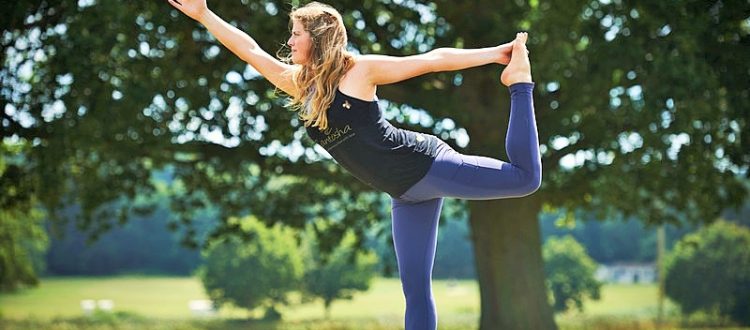 Horsham Blog were kindly invited by Meg Thompson, owner of Yoga with Meg last Thursday to experience her Yoga Flow and Deeply Restore & Relax classes at Millais School in Horsham.
As previous attendees of the school, we could never have anticipated the transformation of the sports hall into a tranquil space to focus on self awareness, breathing techniques and body alignment. However, after a warm welcome from Meg, we were invited into a room of spiritual music, filled with the smells of essential oils and a relaxing atmosphere which set the mood for the sessions to come.
Yoga Flow
Described by Meg as a 'well-rounded flow class to help you dynamically stretch and work the entire body', the class was just that.
The constant, intrinsic movements that we performed stretched the body and relaxed the mind. Engaging with the nervous, respiratory and lymphatic systems, Meg explained every move in detail and assisted every attendee to ensure they received the most from the session.
Moves focussed on the transfer of energy and we used Meg's teachings to understand how to move this around the body, whilst practising breathing techniques and clearing our minds.
As complete 'Yoga Newbies' having tried a handful of classes before Meg's session, we are converted. We finished the class feeling thoroughly invigorated and emotionally and physically cleansed. A real stress reliever!

Deeply Restore and Relax
Used to restore, soften and relax the body and mind, Deeply Restore & Relax is described as a favourite for mums and we can see why. The slow and nourishing class comprised of forward bends and hip openers; dedicating longer periods of time to developing slow and complete breathing.
This class is a must for anyone who would like to relax the mind and take some time out of their day-to-day. After one session, you can understand the positive impact that it has on mental health well-being because of its calming techniques which restore the mind and body harmoniously.
Top Tip
Being inflexible doesn't mean you can't do yoga. It was one of the first questions we asked Meg and we're sure it's a frequent query from people starting out. Yoga almost comes with that stigma of being unachievable, but that's not the case. You certainly won't be balancing on your head or touching your toes as moves can be modified and adapted to your ability.
Classes
Yoga with Meg offers an introductory taster session for free, and her weekly schedule includes:
Tuesdays at Millais School
Yoga Flow 6.30-7.30pm
Beginners Yoga 7.45-8.45pm
Thursdays at Millais School
Yoga Flow 6.30-7.30pm
Deeply Restore & Relax 7.45-8.45pm
Friday at Warnham Yurt
Yoga 10.30-11.30am
You can find out more about each class, visit the Yoga with Meg website.
Namaste! The Horsham Blog.