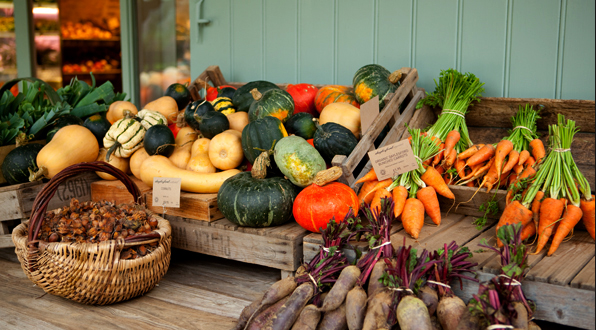 It's official. Autumn is here. Gone are the humid days and long evenings spent in Horsham's best beer gardens as the kids head back to school and we all dig out our winter wardrobe. But before we start thinking too much about Christmas already, there's plenty going on in Horsham this Autumn; from trick or treating to an 80's revival.
Horsham's Famous Markets
We might have said goodbye to Summer but our beloved Horsham markets are here to stay. The Mixed Produce & Goods Market will be in full swing at the Carfax every Thursday and Saturday throughout August so you can stock up on your winter veg and start that festive shopping early.

Harvest Fair
Enjoy the sights and sounds of the Parham Harvest Fair from 26-27 September as traditional rituals and all things Autumn are celebrated. Expect deer walks, seasonal cookery demonstrations from Phil Vickery and Rosemary Moon and even a live gardening programme by BBC Sussex. .

Halloween Haunting
With the spookiest night of the year just a few weeks away, Horsham will be getting into the Halloween spirit with Trick or Treat competitions taking place from Saturday 24th October – Sunday 1st November. The event will be organised by Horsham District Council along with The Rotary Club of Horsham and is bound to be a spooktacular event.

The Holbrook Club's 80's Party Night
Who doesn't love a bit of Tina Turner and Duran Duran? If you're a fan of 80's pop hits, you'd better head to The Holbrook Club's 80's Party Night taking place on Friday 2nd October. With live music from Talk of the Town and an 80's fancy dress competition, it's time to dig out those scrunchies and leg warmers. More information can be found on their website or call 01403 751150 to book.

Agatha Christie comes to The Capitol
Agatha Christie's play The Mousetrap is renowned for being the longest running show in British theatre history; and now it's coming to The Capitol. From 5-10 October, the Horsham theatre will play host to the production as the tour comes to Sussex. Prepare yourself for an evening of murder mystery and suspense.