Toddler and Baby Groups in the Horsham Area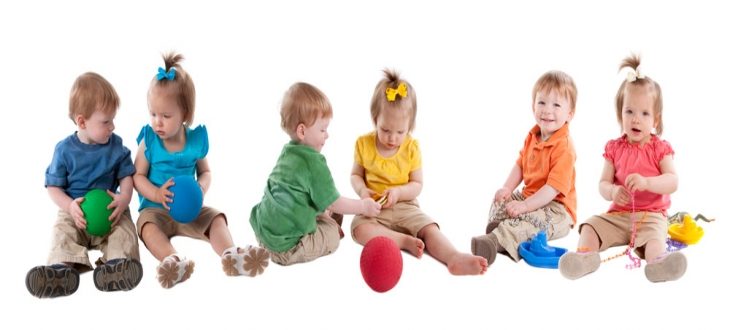 We are lucky in Horsham to have so many baby and toddler groups running each week to keep you and your little one busy. Check out our list of groups which have all built up great reputations and would be something to look into if you've yet to try them out. Arranged for each weekday below, if you know of any more please Tweet us @HorshamBlog.
Monday's
Music Bus
Music Bus classes offer something a bit different. There's a 30 minute music workshop which all the children will love, followed by a 30 minute social time offering the perfect opportunity for you and your child to relax and meet new people. These classes are held in Horsham every Monday and Tuesday during term time and there is ample public parking available nearby.
Details
Contact: Wesley Hall, Horsham Methodist Church, London Road, Horsham, RH12 1AN, 01403 240842
For more info about Horsham Music Bus classes and to book a FREE TRIAL please either telephone Hannah on 01403 240842 , email hannah@musicbus.com or send a message via Facebook www.facebook.com/MusicBusHorshamandDistrict.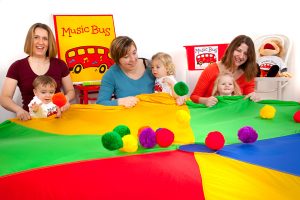 Tuesday's
Horsham United Reformed Church Toddler Group
This toddler groups takes place on Tuesdays 10:00am to 11:30am. The children will enjoy a wide variety of toys and activities whilst all guardians and carers can chat together. It's a good time to socialise and discuss any concerns or even things that work for you as a family. There is also a colourful craft table and sing-song at the end that really brings everyone together.
Details
£1 per session per family – includes unlimited tea and coffee!
Contact: Springfield Road, Horsham, West Sussex, RH12 2RG, 01403 268091, hellie_gall@yahoo.co.uk
Little Builders at Kingdom Faith Church
This huge and exciting toddler and baby group runs Tuesday and Thursday mornings from 10:00am to 11:30am, during school term time. On Tuesday mornings the soft play area is open which is a winner amongst all the children. There are also ride-on toys, a mini bouncy castle, baby area, building blocks and a fun singing session. There is also a cafe open to parents so they can relax with a nice hot beverage. Price is £1 per child.
Details
Contact: National Revival Centre, Foundry Lane, Horsham, West Sussex, RH12 5PX, 01293 851543, info@kingdomfaith.com
Wednesday's
Under 5's group at Brighton Road Baptist Church
This parents and toddlers group meets on a Wednesday afternoon during term time from 1:30pm to 3:30pm. They provide a pleasant and helpful meeting point for Mums, Dads and Grandparents of carers with a Christian atmosphere and a safe and fun place for babies and children under five.
Details
They charge £1 per family, which includes tea, coffee, squash and biscuits.
Contact: Brighton Road Baptist Church, Horsham, West Sussex, RH13 5BD, 01403 211150
Happy Fish Toddler Group
This group meet on a Wednesday from 10:00 to 11:30am and is aimed at children aged 5 years and under. Each session will have lots of toys and fun things to play with as well as a planned theme craft activity. Refreshments for children and adults are provided each week.
Details
Contact: Christian Life Centre, East Street, Horsham, West Sussex, RH121HR, 01403 242335, info@christianlifecentre.org
Thursday's
Horsham Tiddlers and Toddlers
This group provides a friendly atmosphere and plenty of space for your little one to move around. There is a baby's play area, bouncy castle, bikes, trikes and much more. Small snack and drink is provided as well as tea, coffee and cake for adults.
Details
Open Thursday mornings 9.30 to 11.30am in the main sports hall. Open all year round O-4 yrs.
Contact: Holbrook Sports Club, North Heath lane, Horsham, West Sussex, RH12 5PJ, 01403 751150.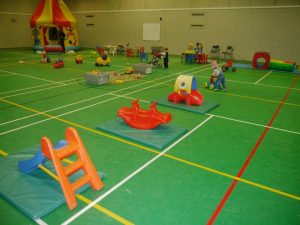 Bumpy Jumpy Soft Tots
This toddler groups runs on a Thursday at Southwater Leisure Centre from 9.45am to 11.15am and then a second session also runs from 11.30am – 1pm. Squash and biscuits for the kids and a cuppa for you included in the price. Plenty of free parking, pay-as-you-go and runs during most school holidays. Activities include tunnels and tents, bouncy castles, foam blocks, trikes and rides on and many more toys. More info can be found here.
Details
Under 1s – £2.50, Over 1s – £3.50, Adults – £1, Siblings under 9 months go free of charge.
Contact: Southwater Leisure Centre, Pevensey Road, Southwater, West Sussex, RH13 9XZ.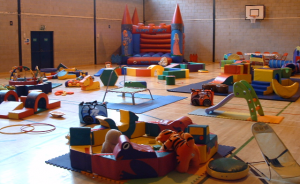 Friday's
Little Footprints
This group runs every Friday from 10:00am to 11:30am and your little one will love playing with sand, dough water, or even doing some painting. There is also a young baby area and a music and song time session.
Details
Like their Facebook page for term time dates and up and coming events. £1.50 per family, includes a tea or coffee for adults and a snack and drink for the children. Suitable for children 0 – 3 1/2 yrs. 
Contact: The Barn, Causeway, Horsham, West Sussex, 01403 242243, lynne.keeble@googlemail.com (If you walk down the Causeway towards St Mary's church it's the building on the right with arched windows.)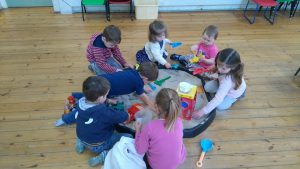 We hope we've shown you the variety of options available. These groups provide a social space with a lot of entertainment and probably the most affordable, included beverages in town. Let us know your thoughts with a comment below, or let us know about additional groups.