Armed Forces Day in Horsham 25th June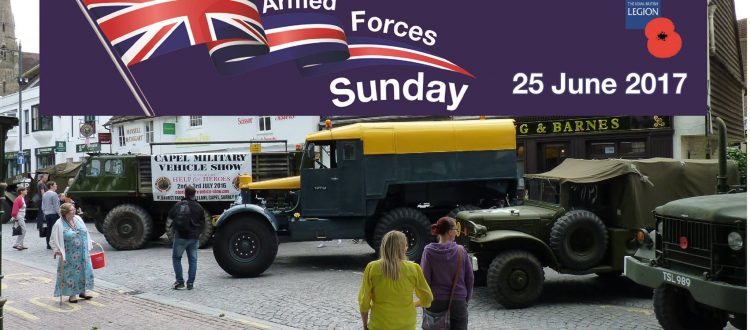 On Sunday 25th June Armed Forces Day will be returning to Horsham's Carfax.
Suitable for people of all ages, the event starts at 10am until 4pm and will celebrate the contributions made by British service personnel throughout the years and also show respect for those who have given their lives in conflict.
What will we see and do?
Throughout the day, there will be a lot to see from the Royal British Legion and food and drink stands will also be in the Carfax supporting military charities, so take the chance to try something tasty on the day.
Parade with marching band
Royal British Legion and cadets ceremony
Military vehicles
Royal British Legion on the bandstand
RNA, cadet and aviation stands
RBL and military charities food and drink stands
The event is free and parking in town is £1.50 for the day across the town centre. The event is being organised by The Royal British Legion with support from Horsham District Council to highlight the role and work of Royal British Legion and other forces charities and local cadet forces.
Community spirit
Armed Forces Day is always marked in Horsham and by the local community, with the event popular with locals, including families as well as those who are affiliated with the military. Taking place this year on the Sunday, it will be a great chance to enjoy the outdoors and support a worthy cause.