A Brief History of Horsham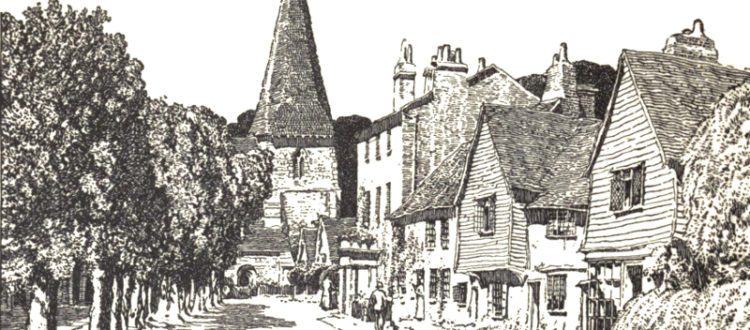 Horsham: a beginning
Horsham, the name could either mean "horse home", or "Horsa's home". Horsa was a Saxon warrior who was granted land in this area. Horsham's first historical mention was in 947 CE, it was also mentioned in the Doomsday Book in 1086 as a large village, and by the 13th century had grown into a small town.
Initially, Horsham was famous for its horses, but as time went on the town's main trade switched to tanning leather and brewing beer, and by the 16th century, the town boasted 5 separate brewers.
A growing town
In 1801, Horsham had a population of just 1,539. This grew rapidly and by 1851 there were almost 6,000 people living here, 10,000 in 1900, and now there are around 60,000 people calling themselves Horshamites.
The changing face of Horsham
The centre of Horsham is known as the Carfax, a name most likely of Norman origin, meaning 'Quatre Voies' (four ways) or 'Carrefour', a place where four roads meet. As some people may remember, the Carfax once consisted of two concentric ring roads. A redevelopment project in 1992 aimed to reduce traffic around the town centre and to achieve this much of the Carfax and West Street was pedestrianised and a new town square was created.
The main shopping area, Swan Walk, was opened in 1976 and takes its name from the Swan Inn, which once stood where the pedestrian entrance opens on to West Street. In 1989, Swan Walk was enclosed with a glass roof and a bronze swan statue was erected to honour its name.
Not everything has changed though, the Parish Church of St. Mary the Virgin is the oldest building in Horsham and has been in continuous use for nearly eight centuries. It is located at the end of the Causeway, one of the most picturesque and undisturbed areas of the town.
Currently (2018) there are major developments taking place in Piries Place and West Street, with plans for two new cinemas, a hotel, and a square of new retail units and eateries. For more information, please read our overview here.
Famous Horshamites
Horsham's claim to royalty fame is that Catherine Howard, the fifth wife of Henry VIII lived here. Catherine was born in 1523 and married Henry at the age of 17, but was beheaded just nineteen months later, in 1542, for adultery.
On a lighter note, English comedian, Harry Enfield attended Collyer's sixth form college in Horsham. One of his most famous characters, Kevin the Teenager, even makes mention of living on Merryfield Drive in Horsham.
But by far the town's greatest claim to fame is that Percy Bysshe Shelley was born in Field Place in Broadbridge Heath on 4 August 1792. To celebrate the bicentennial of the romantic poet's birth, the Shelley memorial fountain, known as the "Rising Universe" was erected in 1992. Unfortunately, after various periods of deactivation, it was eventually removed in June 2016 due to the need to reduce spending.
Honorary mention
How could we fail to mention that famous actor Michael Caine began his acting career here at the age of 20? Caine responded to an advertisement in The Stage for an assistant stage manager, during his stay he also performed small walk-on parts for the Horsham-based Westminster Repertory Company performing at the Carfax Electric Theatre.
Horsham Highlights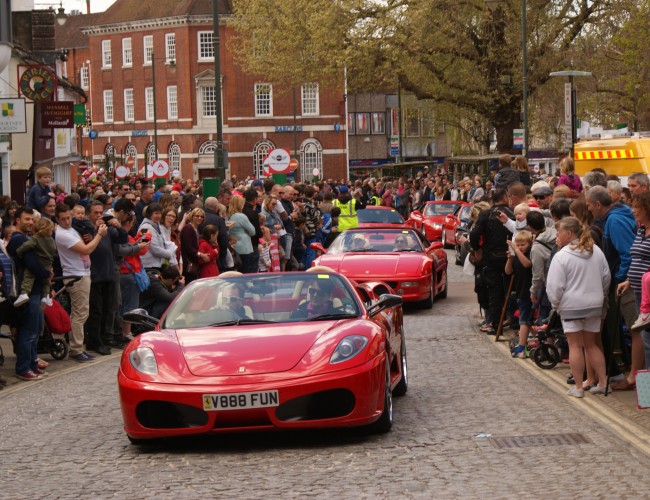 Every Thursday and Saturday you can find a local traders' market in the Carfax which features themed events throughout the year. These include an English Festival, Plum Jam, and the incredibly popular Horsham Piazza Italia.
Horsham holds the UK record for the heaviest hailstone ever to fall. On 5 September 1958, a hailstone weighing 140g (4.9 oz) landed in the town. Similar in size to a tennis ball, the impact speed has been calculated at about 100 m/s or 224 mph.
Horsham was also the site of the world's first revolutionary gaol (jail), built in 1775. You can see the original windows, door, padlock, and keys from the gaol, and experience what a typical cell would have looked like at the Horsham Museum. You'll also find arts and craft galleries, a gallery dedicated to local poetry legend, Shelley, and other fascinating exhibitions from Horsham and around the world.
Further reading
To learn more about the history or Horsham and important events and discoveries in the town, Horsham Museum is a wealth of information. Based in the Causeway, it houses an art gallery and even dinosaur bones. They also regularly organise Horsham walking tours, so it's worth getting in touch or popping in for a visit.
To find out more, visit their website https://www.horshammuseum.org/ which includes upcoming events about exhibitions. Open Monday – Saturday from 10am to 5pm, admission is free.