Horsham's Refurbished Piries Place – After the Launch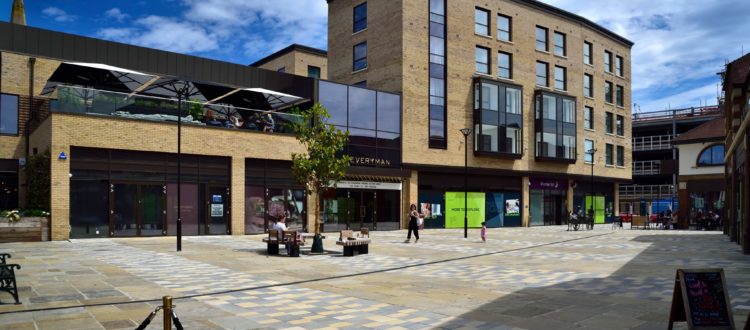 Back in 2017, talk started about what we could expect for the historic Piries Place after the Waitrose moved to Albion Way, and a huge development project was announced.
Now, after two years of ongoing works, the square reopened in July 2019, and by the end of 2019 we will see even more improvements with new restaurants and bars expected to open in the available units.
As such an integral part of Horsham town, we've profiled the changes to help you know what to see and do when you next visit to go to the cinema, have a Sunday Roast or just grab a coffee.
View this post on Instagram
Piries Place 2019
What's new?
Everyman Cinema
We are already seeing and using most of the new units. First to open was the Everyman Cinema, and it has proven popular with couples and families. Across 3 screens showing the newest releases, it's just like sitting on your sofa at home with the added luxury of seat service and delicious food.
View this post on Instagram
The return of Starbucks
Starbucks has returned to Horsham and had a very busy launch day in June after teaming up with students from Richard Collyer's to decorate local Starbucks mugs.. After closing their previous branch in Horsham's West Street back in 2012, many people were left disappointed and should now be pleased to have it back with a fresh, clean look.
Premier Inn Horsham Town Centre
The new development of Piries Place has also brought a new hotel, the Premier Inn. Now in Horsham we have the choice of two Premier Inns complete with limited parking for guests.
Located next to the Everyman Cinema it has a prime location in town with lots to do around it, from movies, restaurants and bars, to coffee shops and pottery,as well as visiting Horsham Museum. For as little as £32 for a room, it's an ideal location for your friends and relatives to stay when visiting.
Miller and Carter Steakhouse
With the unfortunate delay of Miller and Carter opening due to a fire, we will see it's new grand opening at the beginning of August. The award winning restaurant is set to open on Tuesday the 6th of August with a high quality menu to choose from.
White Brasserie Pub
The Red Deer, our new local White Brasserie pub has a lot to offer; an extensive wine list, guest ales and tanks beers, as well as a wide range of food,
The Red Deer has something for everyone as a family friendly pub with dog-friendly areas and a beautiful, rustic interior design. With a selection of French and British pub classics, there are lots of new things to try and The Red Deer has certainly brought a different cuisine to Horsham.
View this post on Instagram
500 space car park
Both Horsham and Southwater are expanding and with that, comes the demand for more parking in the town centre. The new Piries Place car park will be 5 levels and have 516 spaces, which is 189 more than the previous car park. It is set to open in early September and will have some allocated parking for guests of the new Premier Inn.
What's stayed?
Ceramic Shack
Not forgetting the old Piries Place, Ceramic Shack remains in its unit and is a great place for families to visit. Why not have fun and decorate yourself an item such as a plate, mug or ornaments?
Also offering party hosting, it's a great place to celebrate a birthday, and they also host a regular cocktail evening.
View this post on Instagram
Broadbridges
Broadbridges also remains in Piries Place, but if you can't find it, that's because it has moved down a few units.. Established in 1934, they sell school uniform, menswear and formalwear. They are a trusted business and remain in the heart of Horsham.
Polygon Cocktail and Coffee Cult
Nobody wanted to see the closure of The Dead Parrot; its been a popular bar serving up award winning cocktails and excellent service.
No longer called The Dead Parrot, it went through a rebrand for the launch of Piries Place and is now called Polygon, Open 11am-11pm Monday to Thursday and 11am-1am Friday to Sunday, they welcome you to join them in cocktails and coffee all day long!
What do you think?
With the long wait over and the development now open – although with several units still to be filled – check out what's already there, support new businesses and let us know what you think!.Drop us an email at info@horshamblog.co.uk or Tweet us @HorshamBlog. We'd love to hear from you.