Horsham Children's Parade: The Definitive Guide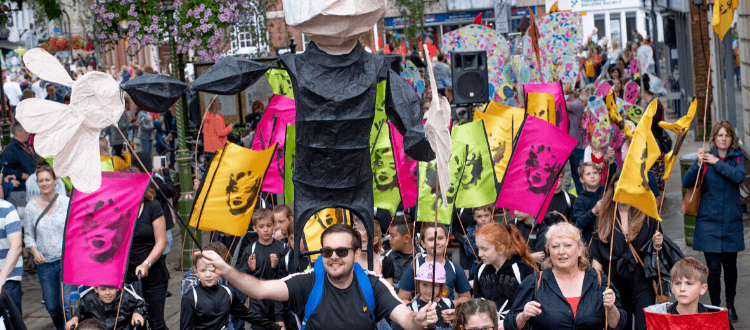 Knowing what is going on in Horsham is helpful whether you live locally, are visiting for a weekend or thinking of moving here.
In this guide, we'll go into detail on the new and very popular Children's Parade event.
What is the Horsham Children's Parade?
The Children's Parade purpose is:
"Showcasing the diversity and talent of Horsham's Children"
It gives young people the ability to work with professional artists, learn creative skills, and showcase their artwork.
It also connects families, schools, and the wider Sussex community as they enjoy a fun and energetic experience.
The organisers have also designed a fundraising programme whereby the public can fund Happy Accidents (not-for-profit community arts organisation) and the parade itself; to make it the best it possibly can be.
When is the Horsham Children's Parade?
Due to an incredible turn out (with over 700+ young people) at their first event in 2019, the Horsham Children's Parade may continue annually every July which could also include creative workshops in the months before-hand.
These creative workshops are designed to mentor children from across the district who may not get the opportunity to learn creative artistic skills, or be able to experience an imaginative and upbeat parade where they have the freedom to show-off their new artistic talents.
Who organises the Horsham Children's Parade?
The Horsham Children's Parade is organised by two established charities. These include Happy Accidents and Same Sky Ltd who are passionate about connecting people and improving lives.
Happy Accidents
Happy Accidents is a community company that was set up by a Horsham mum with a passion:
Alieda Strowger
Alieda has a brilliant vision of introducing local communities to magical arts and a creative culture with the ambition to educate, entertain, and inspire children.
This is helping local communities to bond, boost the local economy and promote arts and culture as a vocation.
Happy Accidents raised a brilliant £10,360 from West Sussex Crowd in their first Horsham Children's Parade in 2019.
After the event, Alieda said:
The parade went absolutely amazingly. So many people turned up, huge crowds and the children and parents were just absolutely overjoyed. We had amazing support from a number of different organisations and funders.
Thanks to the support of the crowd, we were able to hire a professional artist to go into each primary school for one to two days, to work with any number of children. And everybody really, really engaged with it.
Same Sky Ltd
Same Sky is a community arts charity based in Brighton with award-winning recognition that supports the Children's Parade.
Since 1987 they have been connecting people and spreading positivity with hundreds of fundraising events.
Their motto as a charity is:
"Bringing communities together through creative art."
Who funds the Horsham Children's Parade?
The Children's Parade is supported and funded by:
Arts Council England
Horsham District Year of Culture
West Sussex County Council Community Initiative Fund
Saxon Weald
Organisers have informed the Horsham Blog that these funders may change annually
The parade was also funded by the generosity of the Horsham crowd in 2019. The funds go towards the parade as well as the two organisers: Happy Accidents and Same Sky Ltd.
What goes on at the Horsham Children's Parade?
The Children's Parade hosts a wide variety of fun things.
These include:
Working with professional artists
Upbeat music
Vibrant dancing
Deliciously refreshing summer food and drinks
Workshops
Circus
The parade departs from Denne Road car park and ends at the greenery of Horsham Park, lasting approximately 45 minutes. During this time entertainment includes various choirs, musicians, dance groups, and even a gymnastics display by 'Horsham Acro'.
There is also a circus show from the special Bezerkaz Circus that'll get children involved as they demonstrate their skills to the crowd.
Other exciting attractions include:
Steam-driven machines
'Titan the Robot' show
Guiles Reptiles
Kapow's Wrestling Shows
The Rotary Coconut Shy
Children's Zone With Bounce Mania
Soft Play
Music Bus
Busy Days Face Painting
And more!
Multiple marquees will be set up across the parade and in Horsham Park where you'll also be able to enjoy street food, beauty products, clothing, accessories, and gifts.
What is the Horsham Children's Parade Route?
The route of Horsham Children's Parade is as follows: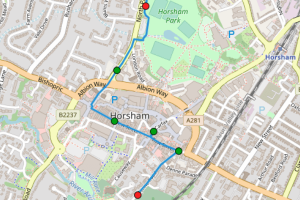 ➡️Denne Road
➡️ East St
➡️ Carfax
➡️ West Street
➡️ Springfield Rd
➡️ North Parade
➡️ Horsham Park
Volunteering at the Horsham Children's Parade
Why not volunteer if there is another event in July? The parade may take place annually and you'll be able to help the organisers create one of the most magical events in Horsham. You can get in touch with Horsham Children's Parade through their Facebook page.
Follow us on Instagram @horshamblog where you'll discover the best of Horsham and West Sussex.
Are you going to the Horsham Children's Parade next year? What are you most excited about?
Let us know in the comments below!
---
Featured Image Photo Credit: Horsham Children's Parade 2019. Andy Warhol by Northolmes School. Copyright Happy Accidents. Photo Jim Carey Photography