Horsham Local Starts New Business Amidst Covid-19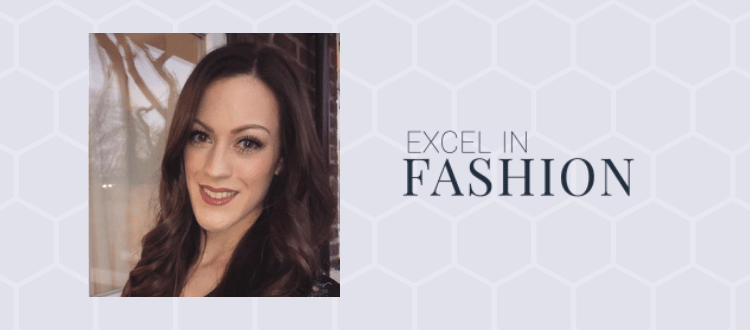 This week, the Horsham Blog met with Collyers alumni, Emily Harris who has used her time off during the Covid-19 pandemic to develop her skills and launch a new business venture.
Previously working with some of the UK's high end retailers including Dunhill and Agent Provocateur, Emily has decided to start her own business 'Excel in Fashion'. A business consultancy providing strategic planning for growth, advice for buying, techniques to build the right range and digital tools for managing processes in the fashion industry.
We met (socially distanced) Emily to discuss her new business;
What made you decide to start your own business?
During the lockdown I decided to take on a personal development course which encouraged me to consider what I can offer to others. I realised my strengths of strategic thinking and forward planning, wide ranging experience in buying and merchandising knowledge as well as an advanced excel skillset could be useful to others. This could be established companies looking to streamline their workload or those who are starting their business' and perhaps need some guidance to put the right processes in place from the start. This is when Excel in Fashion began.
What does Excel in Fashion offer?
I aim to help businesses reach their potential with strong strategy, forward thinking planning and streamlined processes. Focusing on the following four main areas of product merchandising, buying, critical processes and supporting excel documents. These actions can significantly strengthen your offer.
Excel In Fashion provides a professional consulting service built upon many years' experience in the sector, to generate strategies tailored to your business' needs and achieve commercial success.
What is Product Merchandising?
Product merchandising is creating the right product for your brand, delivering it at the right time and at the right price point, the strategic underpin to boosting sales.
The process of range planning, customer profiling, competitive review and deep diving data analysis can help solidify the offer to exactly the products your customers want to buy. Thus increasing productivity and removing waste, reducing unnecessary development and saving time.
What do you enjoy about Product Merchandising?
All of it! Merchandising is the joining force between all areas in the business seeing the product full cycle; from initial planning and product development, to buy forecasting and placement, through marketing, launch and trade. I love the visibility of different fields within the business that it provides, also the ability to make an impact at every stage within the process. The achievement of seeing projects full circle is what I most enjoy.
What are you most looking forward to with Excel in Fashion?
Meeting new people and the variety of projects. I am looking forward to working with a wide range of businesses, differing in size and working styles.
How has your experience in fashion prepared you?
Aside from gaining in-depth knowledge of the industry I would say that fashion has encouraged me to work with a lot of foresight and problem solving, made me extremely adaptable to change especially at short notice, used to working under pressure and has given me the chance to work and collaborate with colleagues at all levels, from interns to the CEO, in the same day. I think all of these skills are incredibly important for a future in consulting.
What would the process of working together look like?
The process would begin with an initial consultation call, to discover the areas of focus and how I can assist you in achieving these goals. Next, I will prepare a proposal of work for your review. Once the project parameters are confirmed we can begin the collaboration. I can be extremely flexible with how we work together, perhaps the ideal for you is a weekly video call to discuss strategy and next steps, or maybe meeting in person (Covid distancing guidelines permitting), the project could be big or small and last some time if desired.
If you think this would be of interest you can send me an email directly to [email protected] or message in the contact us section of the website to arrange a free initial consultation.
Describe how you came up with the name Excel in Fashion?
Honestly it came to me one morning around 4am, when my mind was whirring instead of sleeping! Excel was important as I wanted to combine the driving force of achievement with the visibility of program knowledge and buying is the field I have gained my experience and skills that I want to pass on.
How has Covid-19 impacted you?
Covid-19 made such an impact through both my work and personal life. Above all it has made me realise how much I disliked my commute and that I need to find a better work life balance. Having spent most of the last decade working in luxury fashion houses I often found I never had time for myself. The ease of transitioning to working from home and getting used to Zoom meetings made me appreciate the little things at home more. I thought if big companies can adapt then so can I which led me to starting Excel in Fashion. I think the lockdown has given us the chance to reset and re-align to our future goals.
For more information: Visit www.excelinfashion.com, Instagram on @excel_in_fashion and LinkedIn with www.linkedin.com/company/excelinfashion.