Guide To Campsites in Horsham and Sussex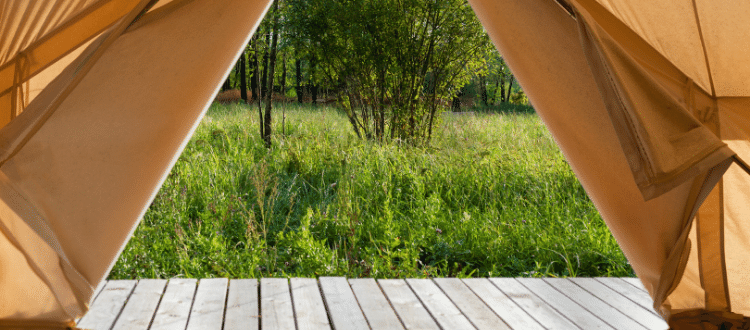 Recently, staycations have become increasingly popular, especially due to the COVID-19 pandemic, with families and couples all looking for places to get away in the lovely British countryside.
In Horsham and the surrounding areas in Sussex, we are blessed with beautiful countryside and amazing green spaces that are perfect for getting away from home, work and the stresses of everyday life.
As you don't have to go far to take a break, below we have listed some of our favourite camping spots in Horsham and Sussex. Please let us know in the comments if you've found a lovely campsite in the area that we've missed off our list.
Sumners Pond
Barns Green, Horsham, West Sussex
Right on our doorstep, Sumners Pond is a beautiful campsite and fishery set in the lovely Horsham countryside.
Here you'll find high quality camping facilities, as well as acres of lakes and woodland surrounding the area. There are a range of camping and accomodation options available, including:
Hardstanding and grass pitches for:

Caravans
Motorhomes
Campervans
Tents

Glamping units including:

Log cabins
Safari tents
Shepherds huts
Camping pods
As well as excellent facilities, there's also a lovely café on site which serves delicious food to those staying and the general public. The atmosphere here is very welcoming and the lakes make it a great place to come and relax.
Discover more about Sumners Pond.
Canfields Farm
Rudgwick, Horsham, West Sussex
Another camping spot right on our doorstep, Canfields Farm is a working farm that is surrounded by lots of lovely woodland. With lots of animals on site, such as cows, chickens and sheep, as well as loads of activities for kids to enjoy, this is the perfect place for all of the family.
Choose from staying in a tent, or one of their amazing canvas lodges and enjoy the views from the north and south downs.
Activities on site include:
Meeting the animals
Den building
Egg collecting
Children's playground
Play area ideal for football or badminton
As well as this there's a lovely communal area and a pizza oven so the whole family can enjoy a lovely evening together.
Discover more about Canfields Farm.
Knepp Safaris
Dial Post, West Sussex
Just on the outskirts of Horsham, Knepp Safaris is a unique place that has so much to offer. Not only can you stay in their beautiful expanse of land in shepherd's huts, bell tents, yurts, treehouses or just standard camping, there's also the option to go on one of their safaris.
Their safaris showcase some of the amazing species in the local area, such as:
Deers
Owls
Bats
Birds
Butterflies
Livestock
All in their natural habitat, the animals are free to roam as they please. The area itself has allowed ecologists to gain valuable insight into habitats and the behaviours of a range of animals, with groundbreaking scientific discoveries made.
As well as this, there are many walks to enjoy around the area.
Discover more about Knepp Safaris.
Blacklands Farm
Henfield, West Sussex
If you're looking to get a bit further outside Horsham and explore somewhere new, Blacklands Farm campsite in Henfield is a great option. Surrounded by lots of lovely countryside and woodlands, there are plenty of walks and areas to discover.
With areas for camping in tents or pitching up your caravan, you can relax and enjoy a traditional camping experience in this secluded and beautiful area.
Amenities include:
Fishing lakes
Children's play area
Well stocked country shop
Hot showers
WiFi
Discover more about Blacklands Farm.
Worth Forest Glamping
Balcombe, Haywards Heath, West Sussex
Only 20 minutes away from Horsham, Worth Forest Glamping is an award winning glamping site that offers luxury accommodation in a peaceful countryside setting. With a range of different accommodation options available, you're able to camp in luxury and enjoy local activities and the countryside.
Facilities include:
Fully equipped kitchen
Dining area
Ensuite
Two bedrooms
Double sofa bed
Outdoor decking area
Firepit
BBQ
As well as this there's optional food hampers and nearby entertainment and attractions to keep the whole family happy.
Discover more about Worth Forest Glamping.
Alpaca Camp
Chailey, Lewes, East Sussex
Set right in the heart of Sussex, Alpaca Camp is surrounded by beautiful countryside and meadows. The campsite itself features individual toilet facilities for each pitch, so you don't have to share with any other families, and has plenty of wildlife and activities around the area.
Set on a working farm, there are loads of animals on site, especially Alpacas (hence the name). With lovely rural walks around the countryside, the historic Bluebell Railway nearby and a swingset for the kids, there's lots of interesting activities for the whole family.
Discover more about Alpaca Camp.
Get in touch
Been on an amazing camping or glamping trip in Sussex recently? Let us know where you've been, whether it's on our list or not, so we can continue to expand our guide to local campsites.
Don't forget to send your pictures of the local area to us on Instagram as we'd love to share some of our favourite camping photos on our page.