Easter Activities In Horsham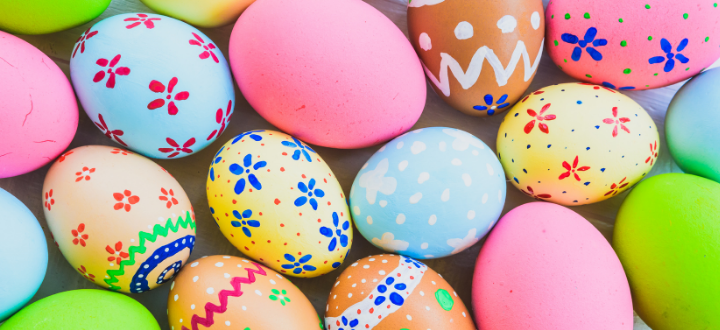 With Easter Sunday on the 17th April 2022, and the school holidays leaving spare time for you and your kids, finding activities in and around Horsham to enjoy as a family is a perfect way to spend your Easter break.
Here we provide a list of all the nearest events to ensure you have a fun Easter filled with opportunities for family fun and classic activities such as Easter egg hunts.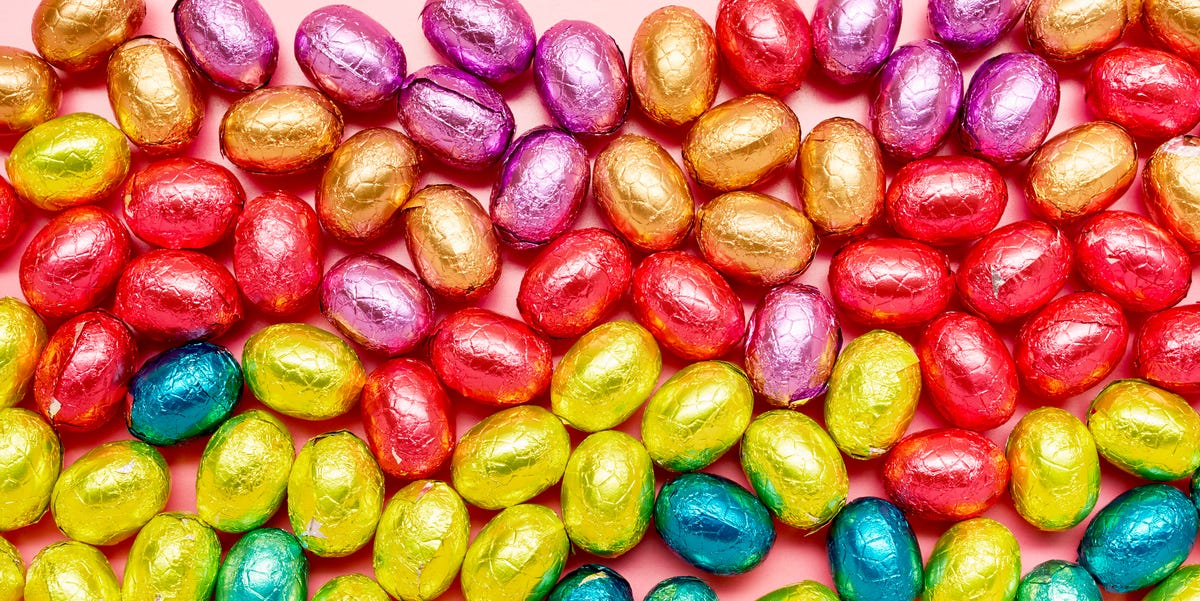 Leonardslee Gardens Easter Trail
Fancy an Easter hunt this spring? Just a short drive from Horsham, Leonardslee Gardens is hosting an Easter trail from the 9th of April to the 24th. Explore the beautiful gardens surrounded by stunning flowers while your children follow clues along the path to achieve an Easter surprise. With only £2.50 per child, this is the perfect activity for younger children.
Along with the Easter trail, Leonardslee is holding an Easter afternoon tea from the 7th-24th. While your kids scavenge for clues on the trail, treat yourself to an afternoon tea with a selection of finger sandwiches, scones, and an array of delicious Easter-themed treats.
Make sure to pre-book here to ensure your Easter reward at the trail's end.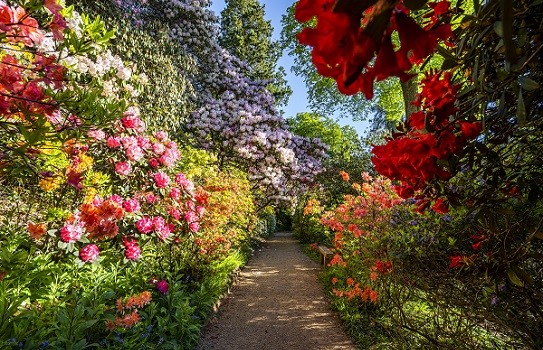 Sunday Lunch At Mannings Heath Golf & Wine Estate
Gather all the family for a 3-course Easter Sunday lunch at Mannings Heath Golf & Wine Estate.
With a special Easter menu filled with mouth-watering options, this is the perfect way to spend Easter Sunday for those who prefer a less active weekend, surrounded by good food and their family. It's also a great way to get older kids involved in Easter.
If you're looking for scavenger hunts this spring, kids under 12 are encouraged to join the complimentary Easter egg hunt to ensure they still get to participate in their favourite Easter activities.
Book here now.
Easter Workshop in The Carfax
On April 14th, your little ones can enjoy a fun-filled 75 minutes of Easter-themed LEGO activities on board the Brick Bus.
Children will each make an Easter themed LEGO packet set for them to take home, and also receive a chocolate egg. Perfect for those aged between 5 -12, this workshop runs three times throughout this day, at 09:30am, 11:45am and 2:15pm.
Book your kids in now for an Easter activity that will boost their creativity, help them develop fine motor skills and make learning fun.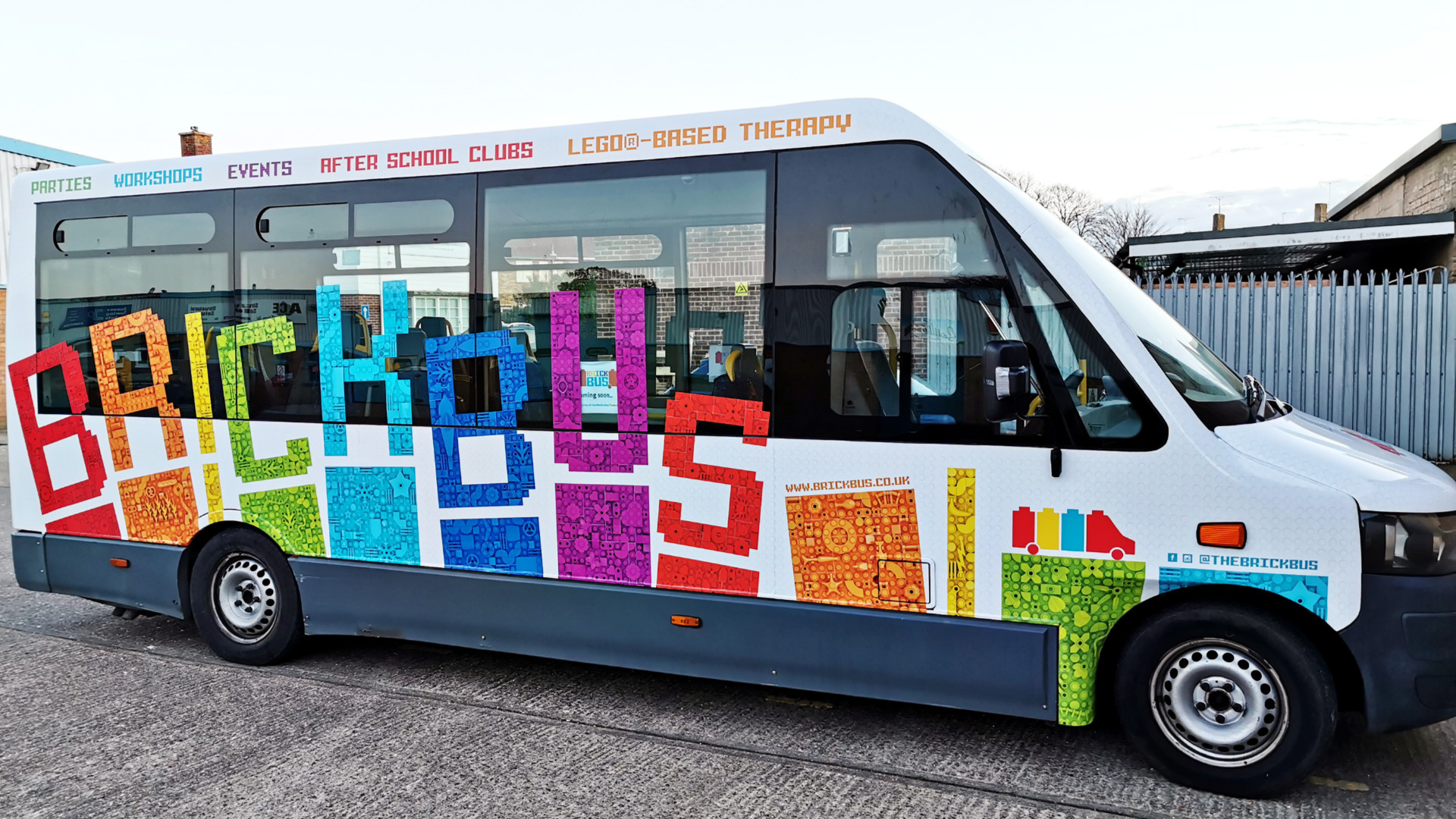 The Wey And Arun Canal Trust Easter Canal Trip
For an activity for the whole family, why not book an Easter canal trip?
Although it's not the traditional Easter activity, with Easter cookies to decorate and confetti-filled eggs – this canal trip is a calming and beautiful experience for those looking for an easy Easter holiday.
Accompanied with free entry for children to an Easter egg hunt, the ticket price also includes tea or coffee with a Danish pastry for adults and a Fruit Shoot and shortbread for children.
Starting on the 13th of April, this canal trip is perfect for a family with kids of all ages, for a more relaxed spot of Easter fun.
Booking is required.
Horsham Sports Service Easter Holiday Club
If your kids and looking for fun activities to indulge in this Easter then the Horsham Sports Service Easter holiday club at The Bridge leisure centre is perfect for you.
Running from the 11th-14th and 19th-22nd of April, this club has two sessions a day at 8:30am or 2pm. Although those seeking a very active Easter time are encouraged to stay for the whole day. The Easter club provides a fun mix of sport, art and play activities for kids, where they spend their time is completely up to them.
With prices starting as low as £23 a day, this club is perfect for those aged 5-12 who would rather stray away from Easter crafts and get outdoors for Easter games this spring.
Book your child in now. Food is not provided so kids are encouraged to bring a packed lunch with them.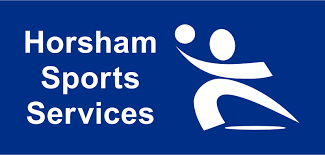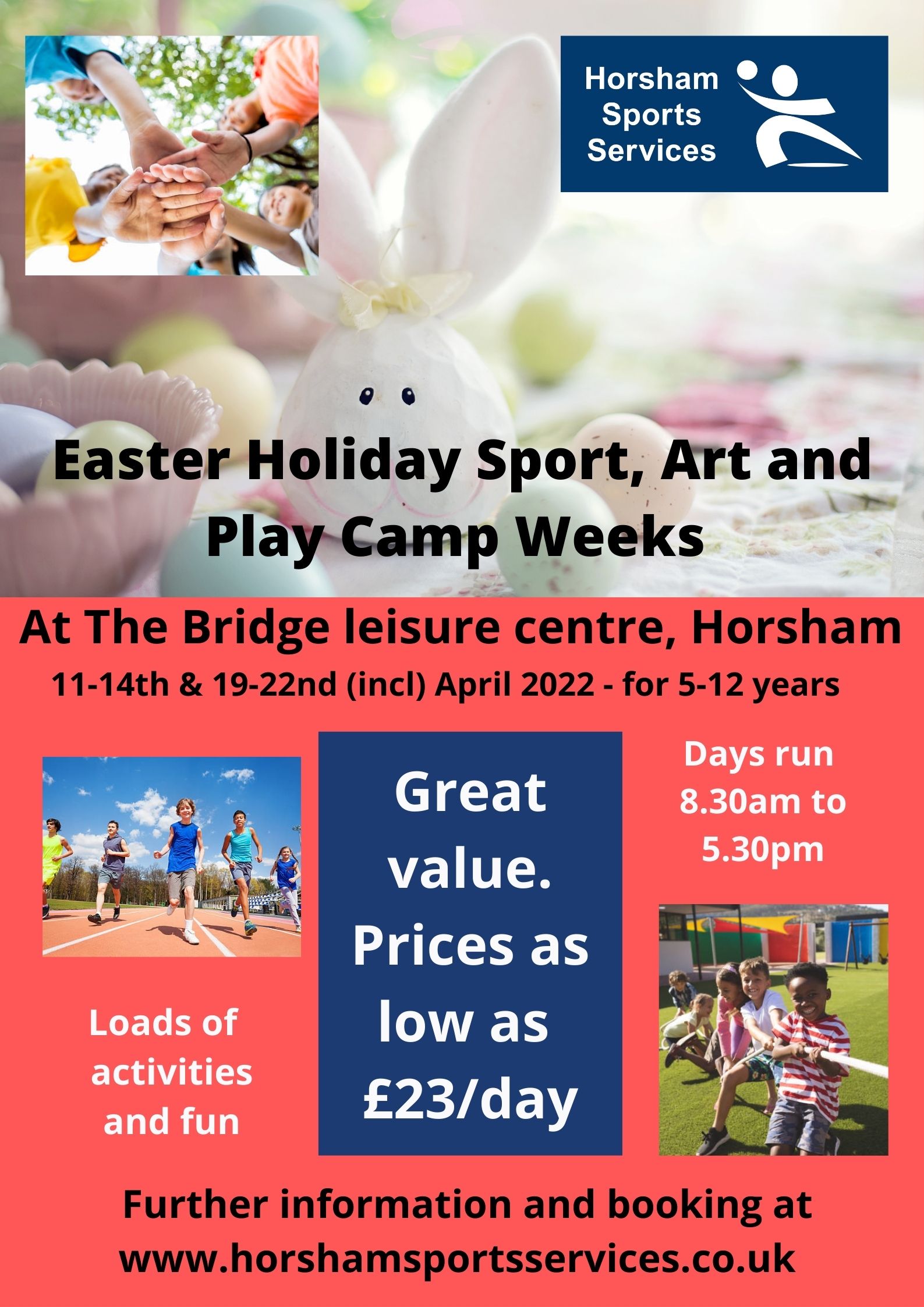 Easter Football Camp
For another fun activity for kids who want to get out of the house, South Coast Sports is running an Easter football camp from the 19th of April to the 21st.
Held at Tythe Barn, this camp offers 3 days filled with different fun football activities for kids aged 5-12. Kids will be able to indulge themselves in training skills and drills, as well as fun games and friendly matches.
Although not riddled with Easter themes, this football camp is fit for children who are looking to spend their holidays participating in fun Easter activities and to play outdoors.
Make sure to book your kids in to ensure their spot.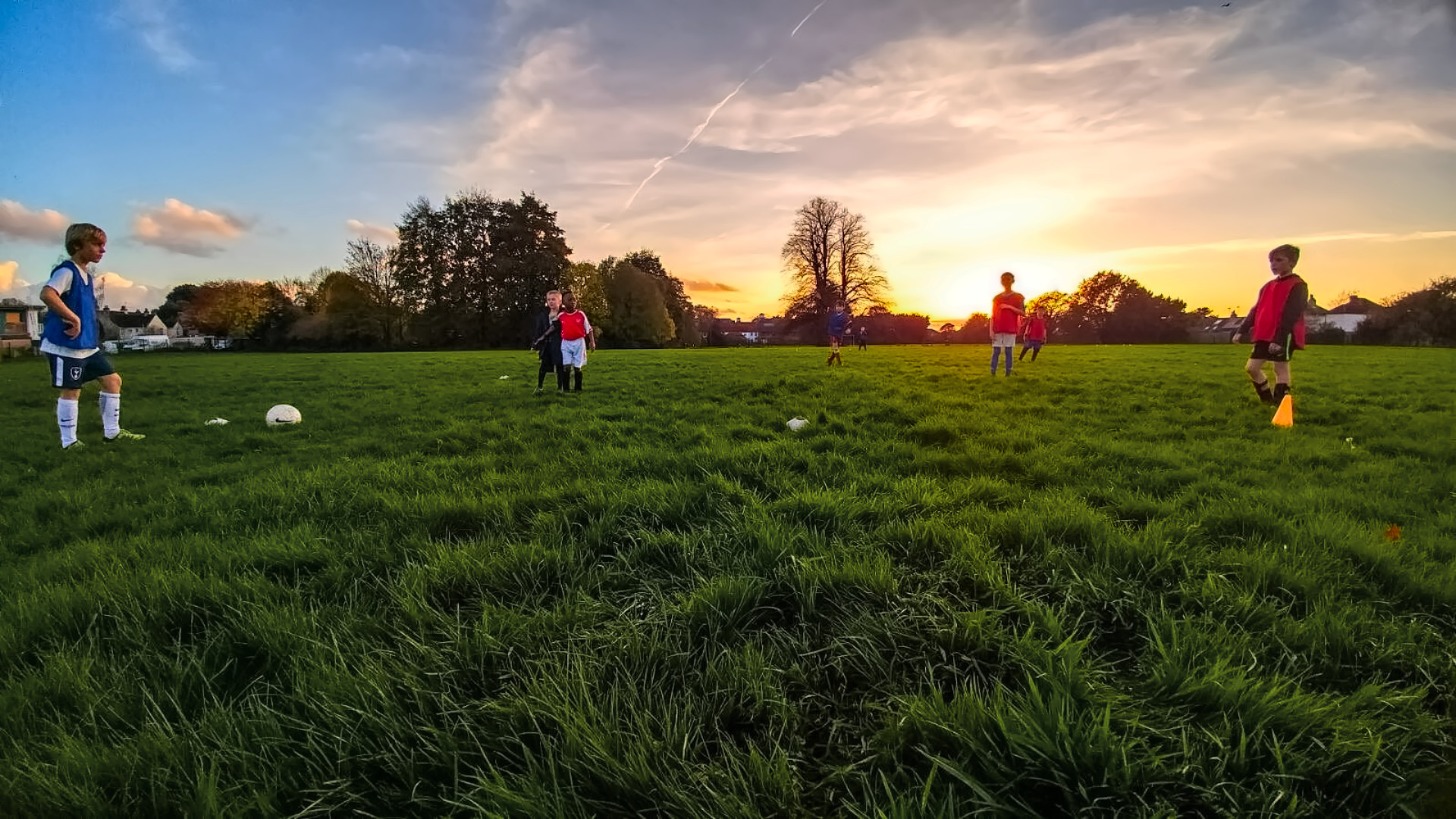 Kicks Dance Easter Workshop
If you're looking for some fun Easter activities for kids, Kicks Dance is running a two day Easter workshop at the Holbrook Community Centre.
On the 11th and 12th of April, children in years 1-6 are invited to come along and 'dance through the ages'. Using music from the 80s, 90s, 00s and now, children will be guided in dancing, drawing inspiration and ideas from the music and having lots of fun.
Children in reception are able to join the afternoon workshop, running from 1pm-2:30pm where they will join in on various activities, and throw a 'dance party' on the final session. This is a perfect opportunity for your toddler to have some Easter fun, meet new friends, play and experience dance.
Get in touch with [email protected] to book your kids in today.
'A Hopping Easter Adventure' at Fishers Farm
If you're still searching for ideas on how to spend this Easter, Fishers Farm offer a range of activities for children.
With the opportunity to meet cute baby animals at their daily animal handling sessions, magic shows, and golden Easter eggs to find, Fishers Farm is the ideal place to bring your little ones this spring.
In their Animal Encounters Barn, there will be baby lambs and goats along with chicks, ducklings, piglets, baby bunnies and more. There is even an opportunity for some to bottle feed them at the daily farm shows. This is the perfect activity for a child wanting to meet a real Easter bunny!
Daily magic shows run in the Barn Theatre, and golden eggs are dotted around the farm for you to find. If you find one of the hidden eggs, you will receive an Easter prize!
Book online now for a fun family day out this Easter, and perhaps even an opportunity to encounter the Easter bunny!
Easter at home
Can't make it out this Easter? Try some at home Easter crafts or hunts. Simple activities like dotting chocolate or plastic Easter eggs around the garden for the family to find are easy to set up. Easter games and crafts are also good for a low budget Easter holiday. Ideas are easy to come up with and you only need simple items like paint, to decorate cards or plastic eggs, and somewhere to draw inspiration from.
Easter day will be ideal – so long as the Easter bunny brings an Easter egg!
What did you do this Easter?
From Easter egg hunts to outdoor clubs – Horsham is riddled with activities this Easter, perfect for families and children. Let us know in the comments below if you attended any of these events during the holidays, or if you have any different ideas on how to have a fun Easter in – or out of – the house.
Don't forget to follow us on Twitter and Instagram to keep up to date with the latest events in Horsham.